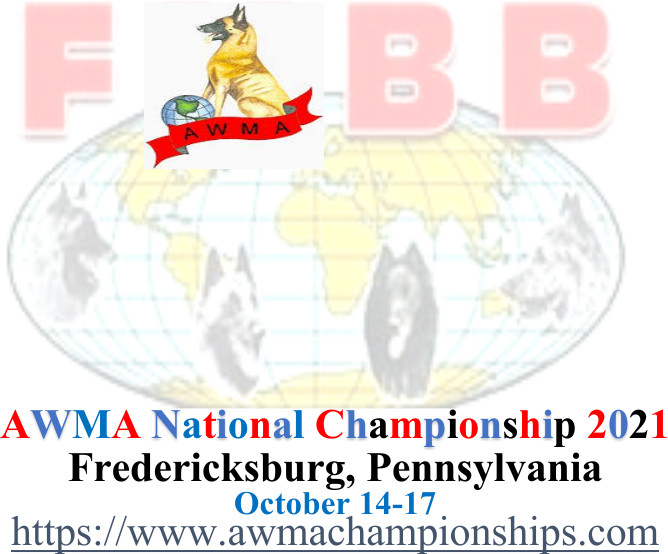 Thank you for visiting and welcome to The 2021 American Working Malinois National Championship website.
Entries open on September 1 and close on October 5 – $150.00
Practice Time Choices Are In Order of Successful Entry Registration
October 6 – 10 Late Registration @ $350.00
This Championship, which will take place from October 14–17 2021, is hosted by the OG Keystone Belgian Malinois Club and Joe and Lindsay Brockington on behalf of and under the supervision of the parent organization, The American Working Malinois Association ("AWMA").
BH and IGP 1-3 will be offered. The venue is the same as the 2021 AWDF National Championship. All competitors and spectators are hereby advised that smoking, vaping and the consumption of alcoholic beverages on school premises is grounds for immediate dismissal from the trial if you are a competitor or removal from the premises, etc., by school officials or law enforcement. This includes during the weekend. No exceptions and zero tolerance enforcement. We hope you will understand and cooperate and if you are unable to, please refrain from entering the competition or spectating. We will do our best for you and expect this minimum cooperation. Thank you.
The AWMA is a member of the Federation Mondio Berge Belge and the American Working Dog Federation. Its primary goal is to promote an appreciation for and understanding of the dynamic working capabilities of the Belgian Malinois in accordance to FCI conformation standards and FCI testing protocols such as, but not limited to, IGP and Mondio USMRA – United States Mondio Ring Association.
Please check back regularly, as we will update the website as we attain target goals, aiming to deliver to competitors and all others involved with or interested in our Championship, a fair and wonderful experience. Thank you.